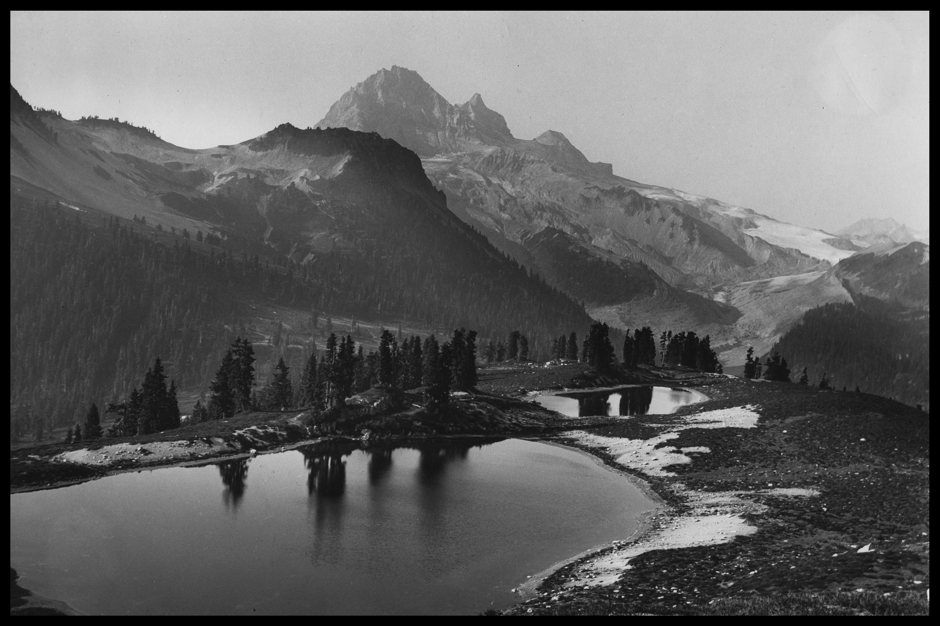 Garibaldi Provincial Park: Elfin Lakes & Diamond Head
Photographs by Hugh Aikens
Since the early 1900's, hikers have been venturing into Garibaldi Provincial Park to explore and take pleasure in its numerous alpine lakes, ponds, streams and meadows. Climbers have come to scale several challenging peaks within the park including Mount Garibaldi and Mamquam Mountain. Since the late 1930's, skiers have been traversing its vast snowfields and frozen lakes. In the early 1940's, three Hollyburn pioneers, Joan Mathews, Ottar Brandvold, and his brother Emil, formed a partnership and worked out a plan to build a number of mountain chalets in Garibaldi Provincial Park, linked together by trails. During summer seasons they searched for the best building sites and ultimately chose Elfin Lakes as the location of their first chalet. During the next few years, Joan, Ottar, and Emil worked hard to realize their dream of owning and operating a remote alpine lodge. At first, horses were used to drag logs and other supplies along a rough mountain track to the building site. Later a road was built to bring in guests and supplies. By the late 1940's, Diamond Head Lodge was open and attracting local, national, and international visitors. During the next three decades thousands visited the lodge. Summer hikers and back-country skiers explored the compelling landscape that surrounded Elfin Lakes. Eventually the Brandvolds retired and BC Parks took over ownership of Diamond Head Chalet. For a number of reasons, the lodge was not maintained and allowed to decay. Soon there will be little trace of the mountain retreat that so many enjoyed. What survives is some vintage 16 mm colour film taken by the Brandvolds, a few hundred dramatic mountain photos, and the memories of visitors. In 2007, Hollyburn Heritage Society and the descendants of Joan and Ottar created the Diamond Head Chalet History Project to collect and share the history of this historic place.
Hugh 'Torchy' Aikens
Hugh 'Torchy' Aikens, (1914-1999), was a passionate skier, hiker, and natural historian who spent decades exploring, photographing, and filming mountains and mountain people in BC, Alberta, Washington, and Oregon.
Hugh Aikens was born on September 11, 1914 in Port Arthur (Thunder Bay), Ontario. Later in life he was nicknamed 'Torchy' because of his red hair.
In 1919, the Aikens family moved to Vancouver. As a teenager growing up in the middle of the Depression, Hugh got a job with Cleland-Kent Engraving Company, Ltd. to help support his parents and four siblings. He was to work for Cleland Kent for the next 51 years, first as a delivery boy, and then as a trained photoengraver and electrotyper. After WW II, Hugh became an account executive for Cleland-Kent.
In the early 1930's, Hugh's love of the outdoors drew him to Hollyburn Mountain. Within a couple of years he became a partner in a cabin with Johnny Gibson and Ray Smith, a family friend. Hugh's passion for photography developed during this period.
WW II was to pull the three cabin mates in different directions. Johnny Gibson joined the RCAF early on and was lost in action. Ray Smith was a machinist during the war and used the Hollyburn cabin until 1945, when he moved to Mount Seymour. About 1941/1942, Hugh joined the Canadian Army Engineers.
In 1943, both Hugh and his close friend, Bill Irwin (a renowned skier and ski jumper from Princeton), qualified as trainers in mountain warfare. This training took place near Jasper, Alberta. While in the Rockies, the regiment learned to ski and climb under harsh, mountain conditions.
After WW II, Hugh returned to Vancouver. He again took up the 'Hollyburn lifestyle' that involved summer hiking, winter skiing and socializing with other cabin people on the Ridge. He was rarely seen without a camera.
Hugh now shared his Hollyburn cabin with Bea and Eric MacIntosh (sister & brother-in-law), and Naomi Wilson, (who later married Bud MacInnes). The cabin was appropriately called "Pack-Em-Inn". The "Pack-Em-Inn" quartet were part of the 'close-knit' community on the Ridge made up of city-dwellers who were mountain people at heart. (This unique mountain community thrives to this day and is well-represented by the Hollyburn Ridge Association, which includes the protection and preservation of historic Hollyburn buildings and landscapes in its mandate.)
But times and personal circumstances change. In 1947, Hugh and his young brother Bert (still in high school) moved to Mt. Seymour where they leased a B.C. Forestry site and built a cabin. Around the same time, Hugh added a movie camera to his collection of photographic equipment. In the late 1940's, Joyce Hall began to join Hugh on Seymour outings. They were married in 1950.
During the next half-century, Hugh and Joyce spent much of their free time in the mountains. Garibaldi Provincial Park, Mt. Seymour, Mt. Hood, and the Canadian Rockies were among their favourite destinations. Both Joyce and Hugh became active members of the BC Mountaineering Club and the Vancouver Natural History Society.
Hugh 'Torchy' Aikens passed away in 1999. Joyce died a year later. Although Hugh is gone now, he has given us, with the help of his extended family, a wonderful legacy - his beautiful photos and film of our mountains and mountain people.
Elfin Lakes & Diamond Head
Building Diamond Head Chalet circa 1945